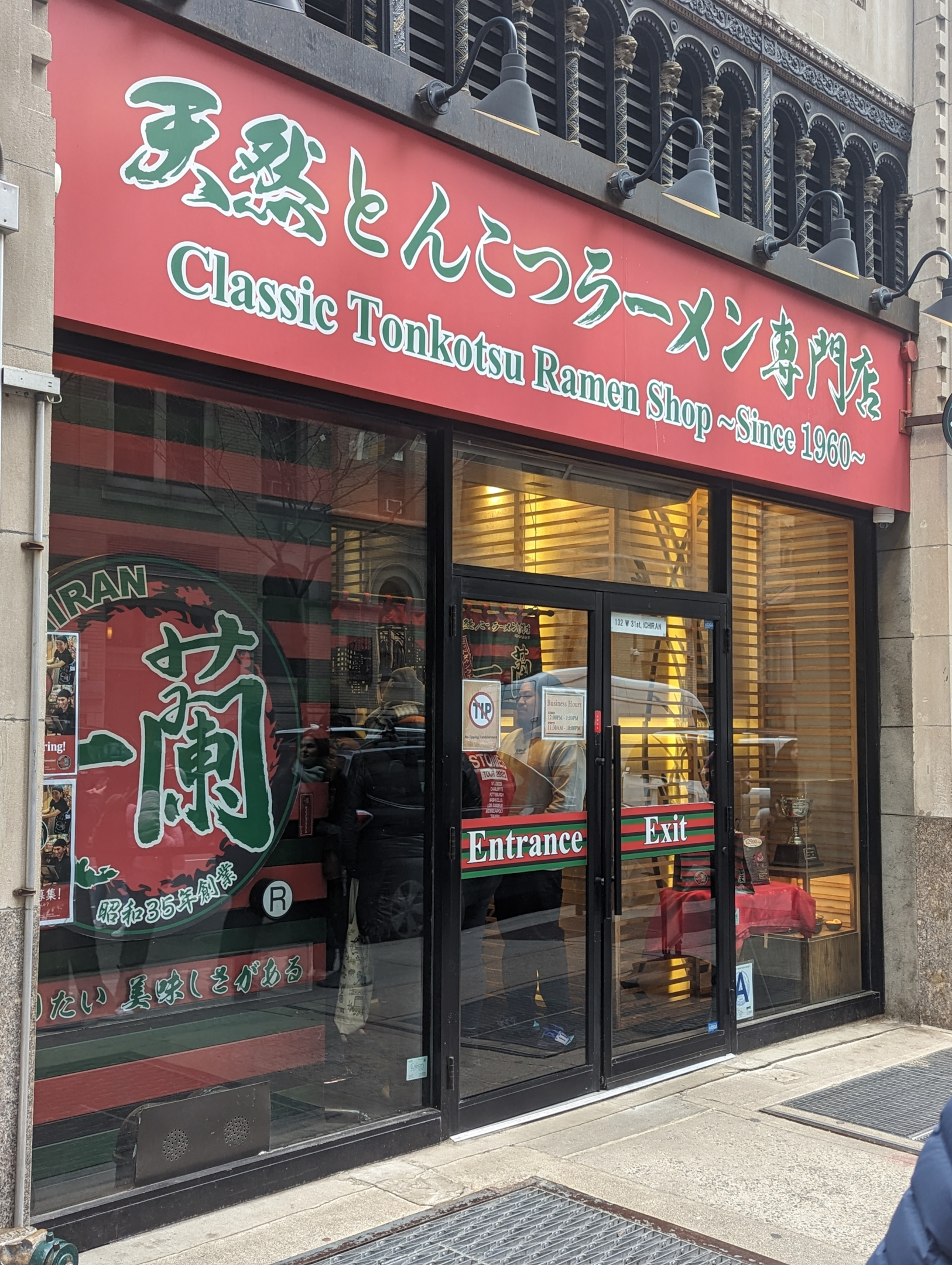 If you're a fan of the best ramen, then you've probably heard of Ichiran Ramen NYC. Known for its unique approach to serving ramen and its delicious broth, Ichiran has become a household name for ramen enthusiasts and restaurants worldwide. And lucky for those in the United States, Ichiran has opened up several locations in New York City, bringing their authentic Japanese ramen chain experience to the East Coast.
Whether you're a seasoned Ichiran fan or a first-time visitor, this blog and review will have something for everyone. We'll take you on a journey through the flavors and culture of Ichiran Ramen, and give you all the information you need to have an unforgettable dining experience in one of NYC's most popular ramen spots. So grab your chopsticks and get ready to slurp up some delicious noodles – it's time to explore Ichiran Ramen in NYC!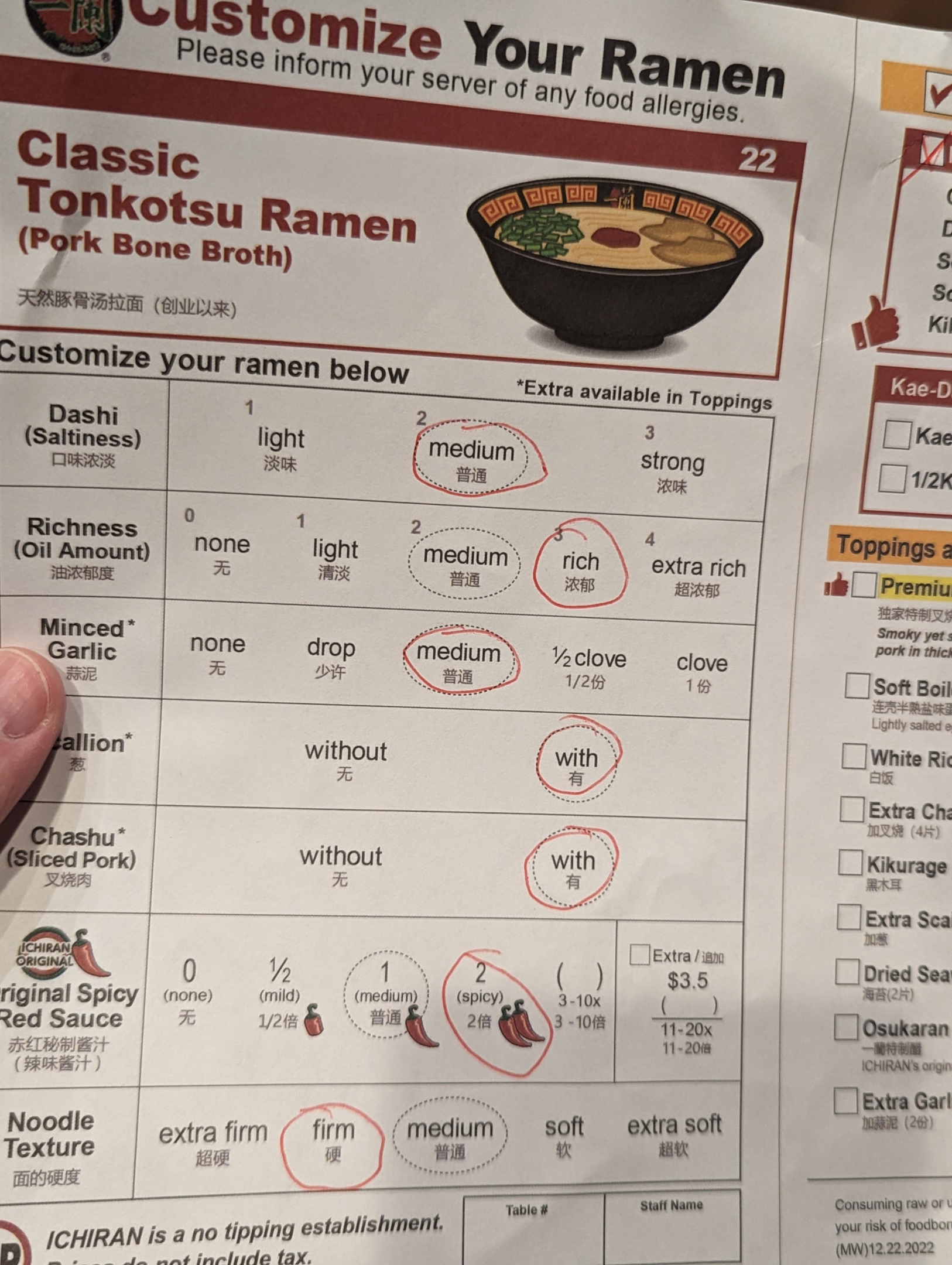 Classic tonkotsu ramen – The best ramen?
Ichiran Ramen's Tonkotsu Ramen is a must-try dish for any ramen lover visiting their New York City locations. The dish is made with a rich, creamy pork broth that is simmered for hours to extract maximum flavor from the bones. The broth is then combined with thin, straight noodles that have a firm texture and a satisfying bite.
The Tonkotsu Ramen is a soup served with a variety of toppings, including chashu pork, sliced garlic, scallions, and Ichiran's signature red pepper sauce. The chashu pork is tender and melts in your mouth, while the garlic and scallions add a savory kick to the broth. The red pepper sauce provides the soup a subtle heat that complements the richness of the broth without overpowering it.
One of the unique aspects of Ichiran's Tonkotsu Ramen is their individual "flavor concentration sheets." Each bowl of ramen comes prepared with a sheet that allows you to adjust the intensity of the broth, richness, garlic flavor, spiciness, and other elements according to your preference and taste. This level of customization ensures that every customer can enjoy their ramen exactly the way they like it.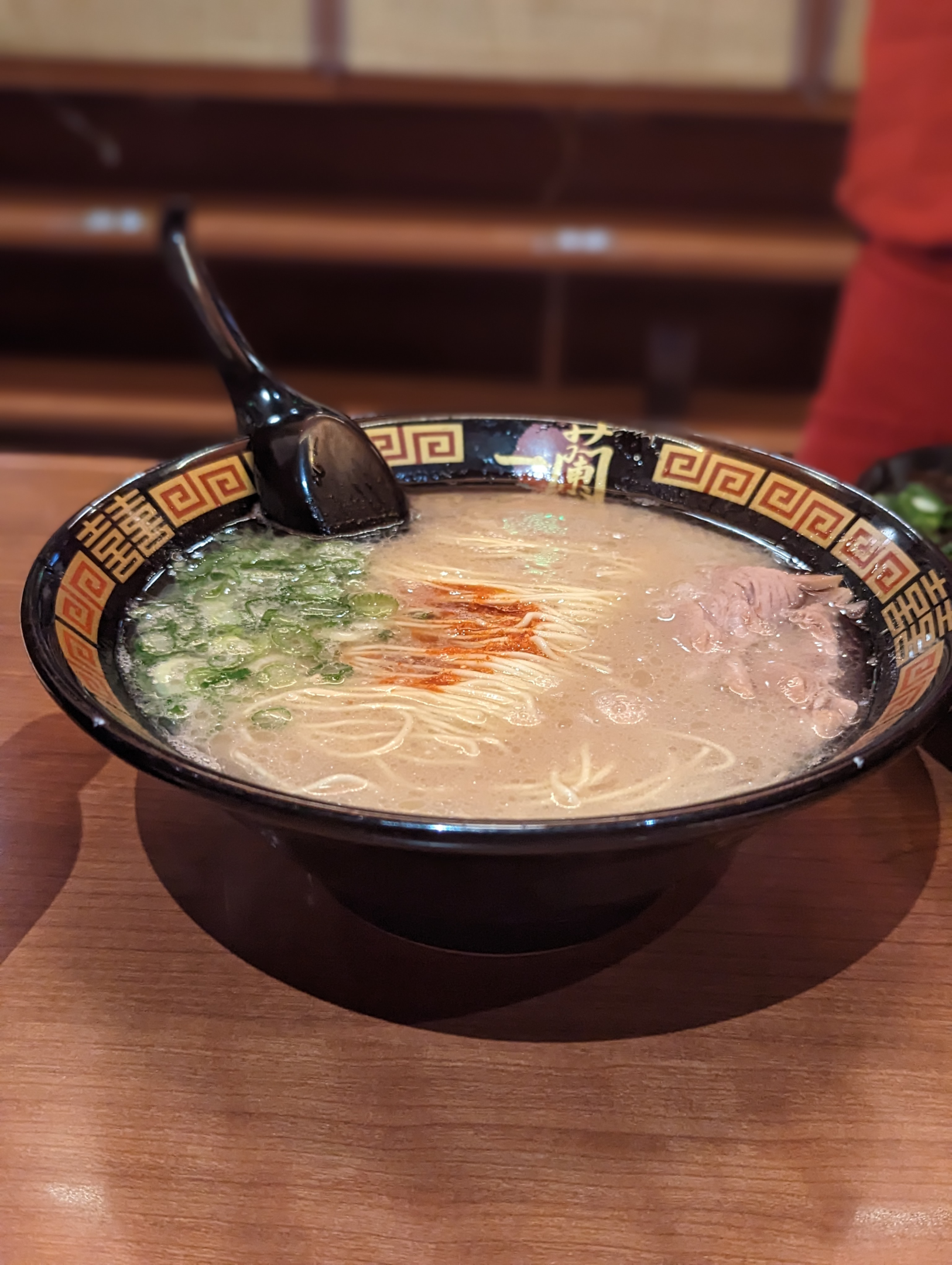 Noodle Texture
Ichiran Ramen is a restaurant known for its high-quality, thin noodles that perfectly complement the rich broth and toppings in their dishes. These noodles are made from a blend of high-quality wheat flour and kansui, a mineral-rich water that gives the noodles their distinct yellow color and firm texture.
The noodles at Ichiran Ramen are cooked to perfection, with just the right amount of bite and chewiness. They are thin and straight, allowing them to absorb the broth and other flavors in the dish without overpowering them. This creates a perfect balance of flavors and textures in every bite.
One unique aspect of Ichiran's noodles is that they are made with a special recipe that allows them to maintain their firm texture even when sitting in hot broth for extended periods of time. This means that you can enjoy your noodles at your own pace without worrying about them becoming soggy or overcooked.
In addition to their traditional noodles, Ichiran also offers gluten-free noodles made from potato starch. These noodles of course have a slightly different texture than their wheat-based counterparts, but still hold up well in the broth and are a great option for those with gluten sensitivities.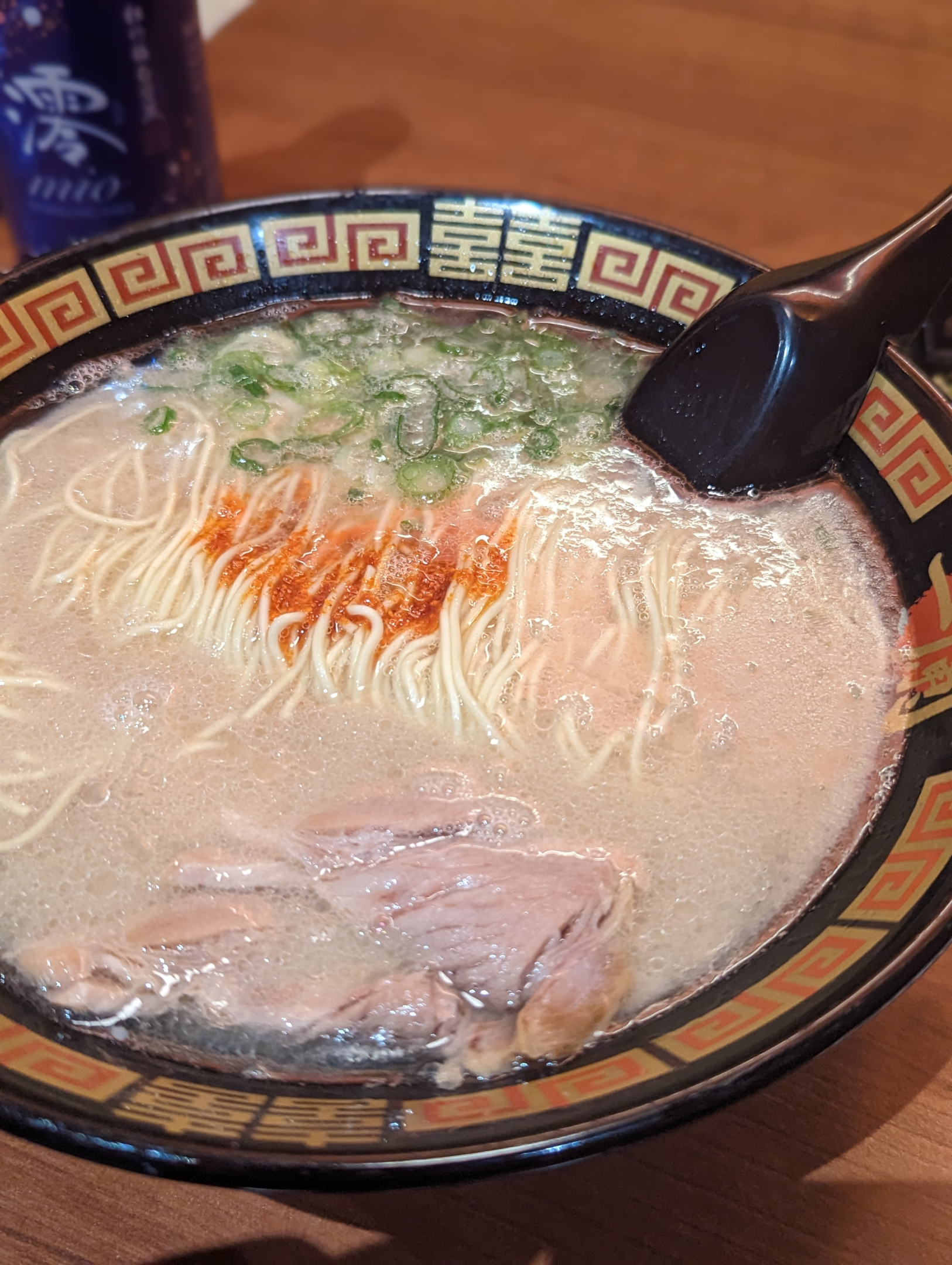 The Broth
Ichiran Ramen's broth is the heart and soul of their dishes, and is the result of a meticulous cooking process that extracts maximum flavor from the ingredients. Their signature Tonkotsu broth is made by simmering pork bones for up to 18 hours, resulting in a creamy, rich, and savory broth that is unmatched in flavor and depth.
The Tonkotsu broth is a soup made using a combination of pork bones, water, and other ingredients such as onions, mushrooms, ginger, and garlic. The bones are boiled at a high temperature for hours to extract all of the nutrients and flavors, resulting in a broth that is thick, creamy, and packed with umami flavor.
One of the unique aspects of Ichiran's broth is their "secret sauce," a special blend of spices and seasonings that is added to the broth to enhance its flavor and complexity. This secret sauce is what gives Ichiran's broth its signature taste and sets it apart from other ramen shops and restaurants.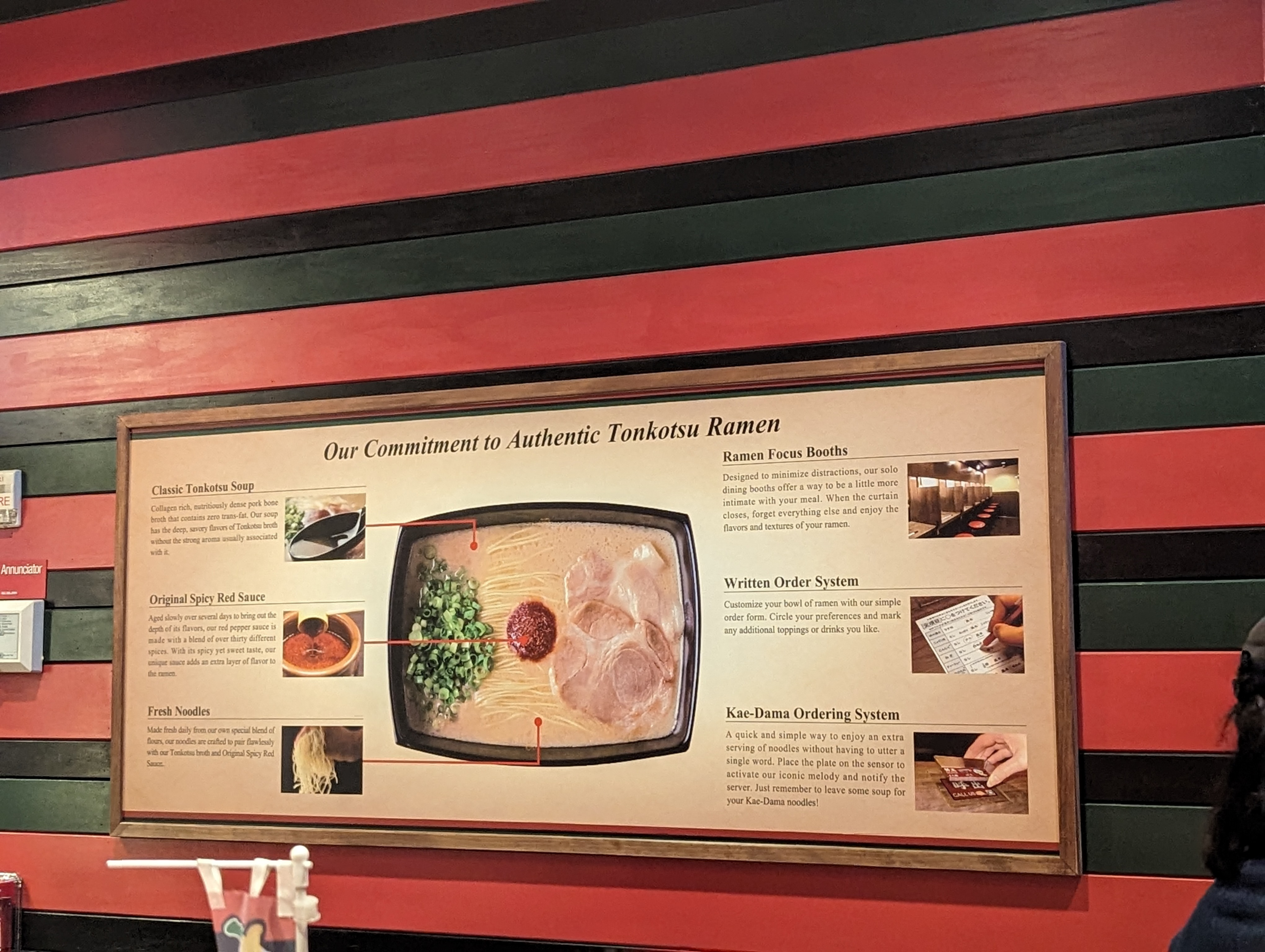 The Meat & Toppings
Ichiran Ramen's chashu and toppings are the perfect accompaniment to their rich and flavorful broth and noodles. Chashu is a thinly sliced and slow-cooked pork belly that is a staple in ramen dishes, and Ichiran's chashu is some of the best you'll find anywhere.
The chashu at Ichiran is incredibly tender and flavorful, with a melt-in-your-mouth texture that is the result of hours of slow cooking. It is served in generous slices, adding a meaty and savory flavor to every bite of ramen.
In addition to chashu, Ichiran offers a variety of other toppings to customize your ramen experience. These include sliced garlic, scallions, seaweed, and their signature red pepper sauce. The garlic adds a savory kick to the broth, while the scallions add a fresh and bright flavor. The seaweed adds a slightly salty flavor and a satisfying texture, while the red pepper sauce provides a subtle heat that complements the richness of the broth without overpowering it.
Overall, Ichiran Ramen restaurant's chashu and toppings are the perfect complement to their rich and flavorful broth and noodles. With a focus on quality and customization, every bowl of ramen soup you eat at Ichiran restaurant is a unique and memorable dining experience.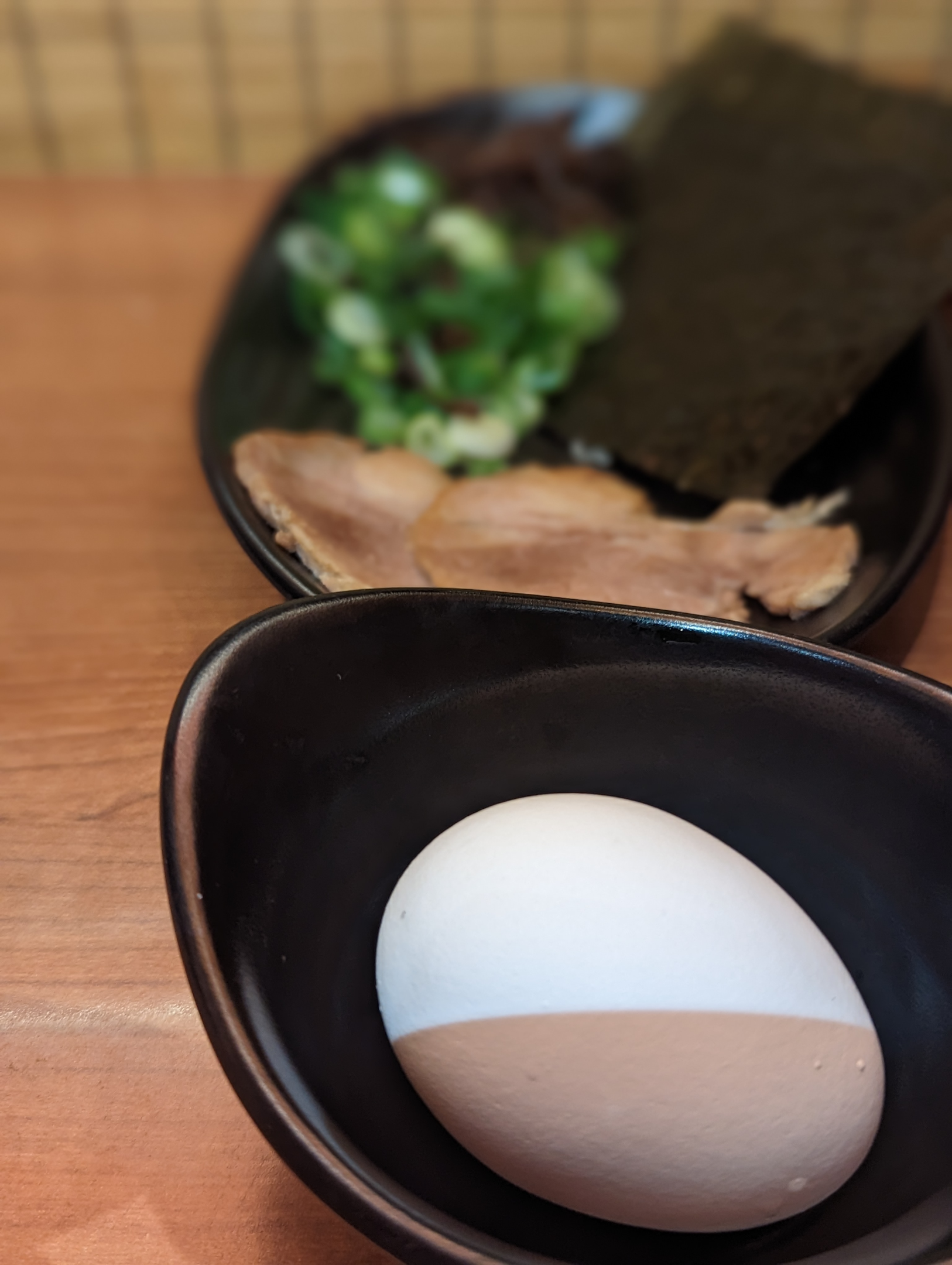 The verdict
Ichiran Ramen is a must-visit destination for anyone seeking high-quality ramen in New York City. From their rich and flavorful broths to their perfectly cooked noodles and melt-in-your-mouth chashu, every element of their dishes is executed with precision and care. While the price point may be slightly higher than some other ramen spots, the quality and attention to detail make it well worth the cost. With a customizable menu and attentive service, Ichiran Ramen offers a dining experience that is both memorable and satisfying. While there may be a few minor points of improvement, such as the seating arrangements and limited menu options, these are easily overlooked in light of the overall quality of the food and atmosphere. With a score of 8.1/10, it is no surprise that Ichiran Ramen ranks as one of the best ramen spots in NYC, and is a must-try for any ramen lover.
Also, check out some of our other ramen reviews for other great NYC ramen restaurants like Tsuta Ramen or Ivan Ramen.